2022 Timetable
Dec 2021 – Nov 2022 Timetable and Fees
K2 to P4: 1.5 hours per session
P5 to Secondary: 2 hours per session
BLK 605 Woodlands Dr 42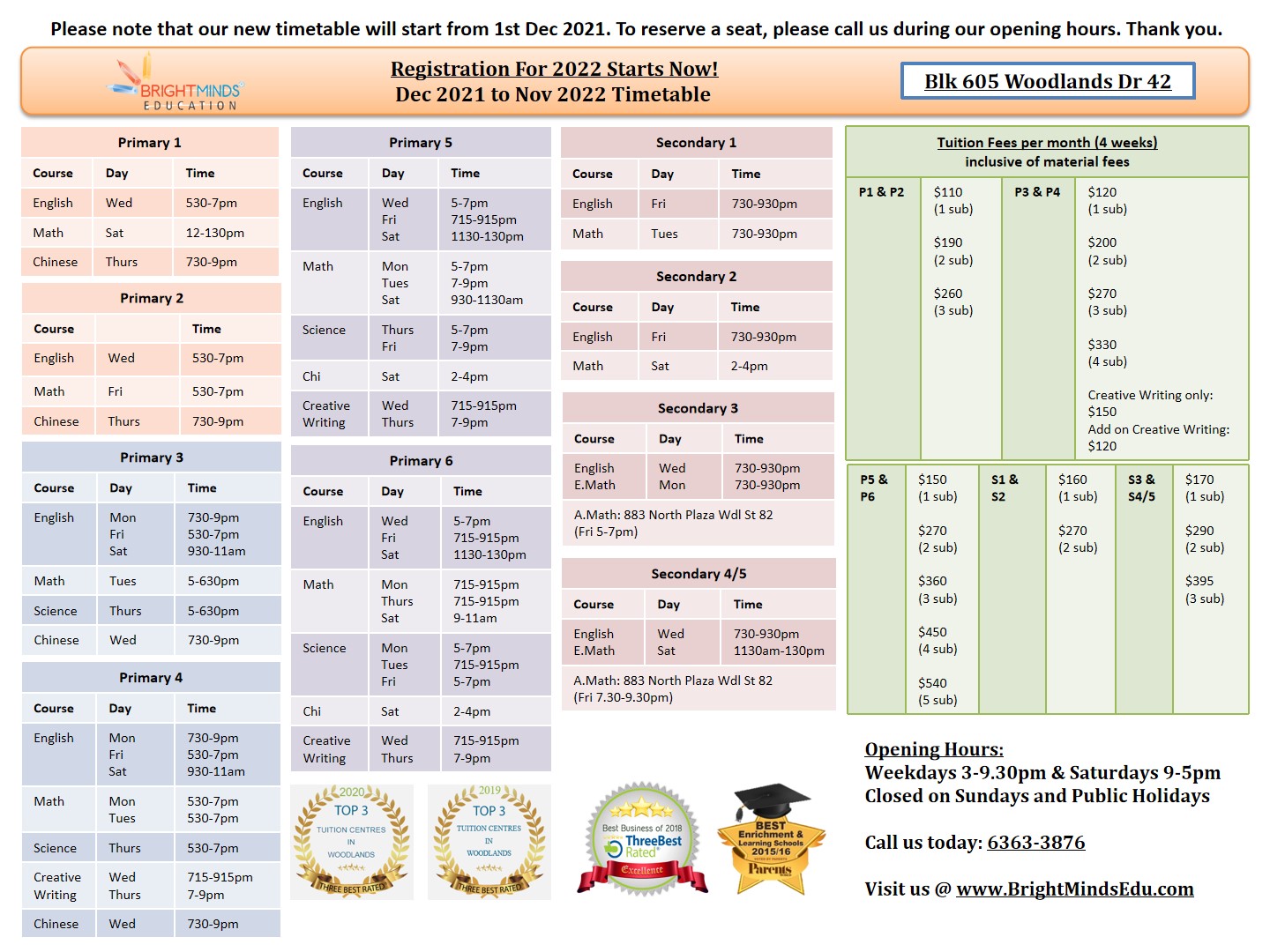 Blk 883 Woodlands North Plaza #02-464

Blk 763 Woodlands Ave 6 #01-70
---
Covid-19 Precautionary Measures (in-line with MOE guidelines)
1) Before Class:
Only staff and students are allowed to enter the centre. Parents and/or caregivers are strictly not allowed to enter the centre. Enquiries or feedback are to be done over phone calls.
All staff and students are required to take their temperature and sanitise their hands before entering the classrooms.
All staff and students are required to check-in using Safe Entry QR scans. If a student does not have a handphone, he/she is required to bring his/her student card or ez-link card. Our staff will then check-in for him/her.
For the safety of everyone, our staff have the discretion to send back any student who seems unwell or displays Covid-19 symptoms.
Students who are under MC, Leave of Absence (LOA), Approved Absence (AA), Stay Home Notice (SHN) or Home Quarantine Order (HQO) are strictly not allowed to enter the centre.
2) Classroom Management:
Teachers and students must wear their face masks during lessons at all times.
1 metre distancing will be enforced between groups of max 5 and a desk partition has been placed on every desk (https://brightmindsedu.com/class-photos/classrooms/)
Students are to follow the seating arrangement in the classrooms.
Students are strongly encouraged not to miss their selected classes without a valid reason and to refrain from arranging replacement classes. This is to avoid interaction and mingling with students from other classes.
Due to hygiene reasons, students are advised not to visit public toilets. However, they will be excused if they have an urgent need to visit the toilet.
3) Safe Operations Plans:
Digital Payments via PayNow and bank transfer will continue. Due to hygiene reasons, over-the-counter transactions such as cash and cheque will not be allowed. All parents will receive an e-invoice before 1st of every month and after e-payment has been made, an e-receipt will be sent.
To allow adequate time to disinfect classrooms and to ensure a strict separation of students from different classes, 30 minutes will be allocated between classes.
All classrooms will be sanitized before and after each lesson.
Parents are advised to fetch their children promptly to avoid students lingering in the waiting area.
To ensure compliance, inspectors from MOE will conduct random checks on tuition and enrichment centres. Non-compliance with safe management measures is an offence under the COVID-19 Control Order (Regulations). Therefore, we seek everyone's kind understanding and co-operation in ensuring a safe learning environment for all. Thank you.
---